Another one to add to the books! Each month we try a different restaurant serving mostly locally sourced or "sustainable" food. This month, our third monthly sustainable business lunch, we decided to go to Edison in South Tampa. It's located right on Kennedy in a little plaza near the University of Tampa.
The atmosphere was great! It's a small space and busy, but it didn't feel crowded. The tantalizing smells were a fantastic preview of the restaurant's daily menu offerings.   Our server was very attentive, knowledgeable, and he didn't mind suggesting what he felt was the best pick on the menu for each member of our lunch group.
There were so many things to choose from, and everything looked delicious, but sadly, we eventually had to choose one.
Andrea got the fish and chips. She said it was one of the best plates of fish and chips that she had ever had! It was cooked and presented perfectly!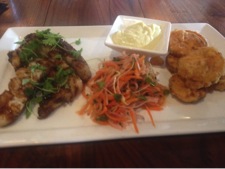 I had the Curried Waldorf Chicken Salad Tartine. It was one of the best things I have ever tasted! Such a unique combination of flavors and textures that I would never think of putting together in one dish.   Wonderful!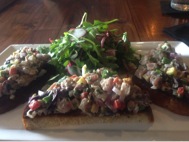 Chris had the Mr. Scholler's Club Sandwich. This was really interesting because it was served with a fried egg on top. Chris said he really enjoyed the sandwich and would order it again.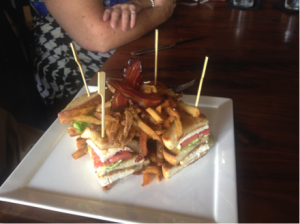 Jeanne had the Fennel Pollen-Seared Sea Scallops. Our waiter suggested this dish for Jeanne and she wasn't disappointed! Her lunch was rated delicious!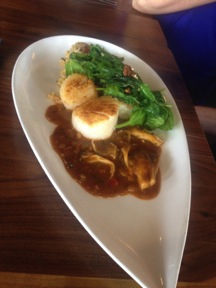 At the end of our meal, one of the managers helpfully explained to us the ways in which the Edison is a sustainable restaurant business. He estimated that at least 60% of all the food served is sustainable. This means that most of the food served is sourced locally (within the state of Florida). The restaurant uses locally roasted coffee beans, locally grown greens, and mostly locally caught fish.
The manager also told us that nothing is wasted in the kitchen. Everything possible is recycled. If something breaks or stops working, they try to use it in other ways. Even the restaurant's take-out bags are completely made from recyclable materials! Cool, right?!
The only complaint I have about the restaurant is the parking. It was very difficult for me to find parking because their parking lot is so small and is shared with other stores.
Other than that, our experience there was great! Definitely one to go back to!