I want a divorce. Now what?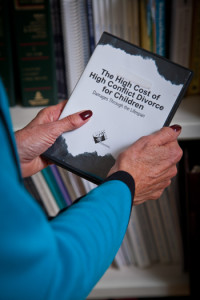 We understand arriving at this decision may have been difficult. And now that you're ready to move forward, the complexities of navigating the legal requirements to accomplish your divorce can seem daunting. Step by step, we'll get you there. Here's what to expect:
START YOUR CASE
1. We meet with you for an initial consultation during which you describe your particular situation and we discuss generally the law applicable to your case. A retainer amount is discussed and you are charged a consultation fee which is the same as the regular hourly rate pro rated based upon the time spent in the consultation. After being retained to represent you, we meet with you for a detailed discussion about the specific facts of your situation, and a general discussion of the legal process of divorce.
2. We prepare the legal documents necessary for filing your case for your review, approval, and signature. Your case is filed.
3. The opposing party or their attorney, if they have already retained an attorney, receives copies of the filed documents by process server, and have 20 days to file written responses with the court and send a copy to us.
4. MANDATORY FINANCIAL DISCLOSURE:  Florida  law on divorce and paternity cases requires both you and the other party to exchange detailed financial information about your assets and debts. You begin completing a required financial affidavit and gathering the supporting documents. We review your affidavit and documents. We must provide this information to the other party or their attorney within 45 days from the date the other party is served with the initial pleadings. The other party is also required to file detailed financial information within the 45 day time period.
5. After you and the other party have exchanged the required financial affidavits and related documents, we meet with you to review all of the information received and discuss how it impacts your case planning/strategy.
CASE SETTLEMENT:
6. At any time during the family law process, you and the other party can agree to the terms of your divorce. When this happens, we work together with the other party's attorney to prepare a marital settlement agreement that reflects your agreement. Once approved and signed by you and the other party, we file the marital settlement agreement for the court's approval. The marital settlement agreement becomes part of your divorce final judgment, and your goal of divorce is accomplished.
7. We strongly favor settlement of divorce cases because it enables you and the other party to make all of the important decisions about the terms of your family law matter. It also saves considerable money that would otherwise have to be spent for a judge to make these decisions. And it accomplishes your goal much faster than winding your way through the court process, allowing both you and the other party to move on with your lives more quickly.
CASE IS NOT SETTLED
8. You may be able to settle only parts of your case with the other party, or nothing at all. We stand ready to aggressively litigate any and all unsettled disputes in your case.
9. The court sets a Case Management Conference 90 days from the date of your initial case filing to discuss the status of the case and enter any orders needed  to move the case toward being ready for trial and entry of your final family law  judgment.
10. We set a trial date for your case. We may conduct depositions (question and answer sessions conducted under oath) of the other party's proposed witnesses, including the other party. The other party's attorney may conduct depositions of your  proposed witnesses and you.
11. If necessary, we set additional court hearings to protect your legal rights before the trial date. For example, if you and the other party cannot agree on support payments during the  case process, time-sharing with your children, or perhaps who will remain in the marital home during the divorce process, we set a hearing date for the court to decide these issues on a temporary basis.
12. The court also strongly favors the parties settling their own case. The court usually requires you and the other party to attend mediation before temporary hearings and your final trial.
13. We prepare for and attend your family law case trial. If asked to do so by the court, we prepare a proposed final judgment for the court's consideration.
14. The court files a written final judgment that completes your family law case and decides all disputed issues presented by you and the other party at your trial.
15. We review the final judgment with you to ensure that you understand your  rights and obligations after entry of the final judgment. Your family law case is complete unless you or the opposing party files an appeal or motions seeking reconsideration of any final judgment decisions within the permitted time period.
16. From the time you retain our firm to represent you through the conclusion of your case, we ensure that you are fully informed about the status of your case and well-prepared to attend any settlement conference, mediation, court hearing, and your family law trial.
17. We use our legal expertise and extensive litigation experience to assist you in weighing your options at each stage of your case. We are here to help and guide you through your family law case, and to expertly assist you with any legal problems that may arise after the case is over.